Prithviraj Bose, MD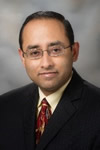 Associate Professor
Department of Leukemia
Division of Cancer Medicine
The University of Texas MD Anderson Cancer Center
Houston, Texas
Dr. Prithviraj Bose obtained his medical degree from the Calcutta Medical College at the University of Calcutta in Kolkata, India. He completed an internship in internal medicine at a University of Washington affiliate in Spokane, Washington, and residency at the Henry Ford Hospital in Detroit, Michigan, followed by a fellowship in hematology and oncology at the University of Oklahoma Health Sciences Center in Oklahoma City, Oklahoma. He then went on to join the hematology/oncology faculty at Virginia Commonwealth University (VCU) in Richmond, Virginia, where he was an Assistant Professor of Medicine and a member of the NCI-designated VCU Massey Cancer Center. Dr. Bose is currently an Associate Professor in the Department of Leukemia at MD Anderson Cancer Center, Houston.
Dr. Bose has published more than 200 peer-reviewed journal articles, book chapters, and scientific meeting abstracts. His work has appeared in The New England Journal of Medicine, Cancer Cell, Blood, and Williams' Hematology. Additionally, Dr. Bose has served as a peer-reviewer for multiple hematology and oncology journals, including The Lancet Oncology, JAMA Oncology, Blood, The Lancet Haematology, and others.
Dr. Bose's major clinical and research focus is on MPNs. He works closely with Dr. Srdan Verstovsek and the two have authored many articles together in peer-reviewed journals and books and continue to do so. Dr. Bose is also heavily involved in clinical trial design for patients with MPNs, and in other areas of MPN research. He is leading a number of important therapeutic clinical trials in myelofibrosis and polycythemia vera at MDACC. Dr. Bose represents MD Anderson on the MPN panel of the National Comprehensive Cancer Network.
Last modified: February 19, 2020